The Four Guideposts of Voice and Speech DVD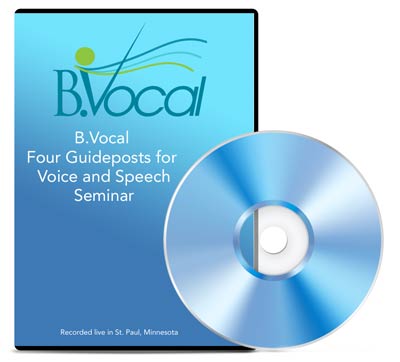 This DVD lets you begin to work with Cheryl Moore Brinkley as she teaches a live workshop on her Four Guideposts of Voice and Speech: Easy, Open, Forward, & Energized Flow. Get started with all the awareness basics of the B. Vocal method and learn a process of warm-ups you can use daily to improve your overall voice & speech or as preparation for any presentation or speaking engagement. Package includes a printed quick guide to the Four Guideposts with easy Warm-ups.
Buy the DVD: $29.95
Price includes MN sales tax and shipping.
If you were to attend this 1/2 day workshop, you could pay up to $250.00.
Yes, having Cheryl as your coach to take you through the training in-person, and customize to your individual needs is ideal, this DVD is a great, practical start. It covers the B. Vocal fundamentals that Cheryl teaches all her Voice & Speech clients.
Coming in 2015 — downloadable Audio of BV practice exercises.
"We all need excellent communication skills in order to share our ideas, thoughts and feelings effectively with others. Are your communication skills what you want them to be?"